Reflecting on My 2019 Goals
And why you should too!
Are you wondering if I accomplished everything I set out to do, at the beginning of 2019? Keep reading!
If you haven't already checked out my blog post on my 2019 goals, you can check it out, HERE.
2019 was the first time I sat down and thought about what I wanted to accomplish for a year. Typically I just kind of let life happen, and hey, there's nothing wrong with that. As I've gotten older though, I truly see the importance in setting goals and planning to hit them. It keeps me focused and on track.
So, it's now November 2019 (because y'all know I write these blog posts early, ya girl can't handle the stress of last minute), and I have hit about 4 1/2 of the goals I set out to hit. Let's do a quick refresh of what those goals were.
So, clearly I started a blog because here you are, reading it- Thank you! I plan to be a lot more active on my blog in 2020.
I've learned a lot about blogging and content creation this year and the main thing is that planning content a head of time is key to not feeling overwhelmed. The reason I haven't been too consistent with blog posts or IG posts, is because I would try to write or take pics, the same day that I planned for them to go live. Let me tell you! That is extremely stressful and I won't do it anymore because it stresses me out and this should be fun, not stressful!
Actual footage of me trying to write blog posts the same day that I want to publish them: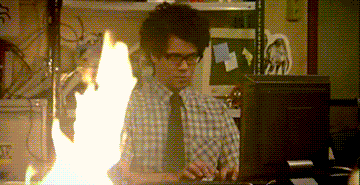 Start paying back my student loan
This was just not what the universe had planned for me in 2019. I simply didn't have an opportunity to start paying them, and that's ok! Make sure you read my 2020 goals to see my plan for my student loans. That post will be coming, January 4th.
So happy about this one! Bae and I were in desperate need of a bigger place and we made it happen just in time for the new year! We're finally back in the city that we love and it's so refreshing.
Spend more time with friends and family- Issa half ✔️
I'm giving this one a .5 because while I did a great job seeing friends and family who are near me, I did a terrible job at keeping in touch with those who are in other states, or like my best friend, on completely different continent. I value my alone time and sometimes my social anxiety keeps me from calling people (because I'm worried we won't have anything to talk about). Yes, I even have this fear with family and close friends.
Y'all!!!! I made it a year transitioning and then I big chopped. Here is the first IG pic I posted, a few days after big chopping. Look at my lil fro, looking a lil stressed but it came together later. 😅
Focus more on my health ✔️
This was the biggest change I made in 2019. I started going to my PCP, eye doctor, therapist, and dentist (and if you follow me on Insta you already know the deal with this) regularly. Best decision I made for my overall health. I'm truly happier because of it and it's something I plan to continue to do in 2020 and for the rest of my life.
Also, as a part of being more conscious of my health, I switched to organic tampons and pads, which really helped me. You can read about my experience, HERE!
Just ain't happen. 😂 We'll see what happens in 2020!
Ok, so after doing a little math, which I'm terrible at lol, hitting 4 1/2 out of 7 goals is about 64% which is technically a D, but not an F, are you with me??
That being said, I am SO HAPPY! Like, I set out to do 7 things this year ( on top of the hundreds of other things I did) and I actually accomplished 4 1/2 of them. I'm damn proud of myself .
Many people set goals but some people never reflect on them. It could be out of fear of knowing that you didn't hit them all or, maybe you did hit them and don't think you need to reflect on wins 🤷🏾‍♀️.
I think we should all reflect on the goals we set for ourselves. It allows us to be proud of the things we did accomplish, and to re-work the goals we didn't and see how we can get closer to accomplishing them next time. Which is my 2020 plan.
A new year, and decade is about to start! If thinking ahead a full year feels like too much, start with the first 6 months and see how you feel.
Have more questions on how I set my goals? Email me or DM me on Instagram! As always,
❤️
Nae